Anybody ever tried one of these? We were thinking about getting one but would like to get some feedback first as to if they are any good or just a waste of money.
thanks,jw
Recharge ALL Your Batteries!
Now you can recharge Alkaline too
"It is the best charger for the money I found in all my research." -Gil
Our Universal battery charger is a great cost saving alternative to purchasing expensive packs of batteries time and again. Yes you CAN re-charge and extend the life of all those ordinary alkaline batteries up to 10 times!
Of course, this re-charger works really well with rechargeable NiCad batteries too.
Each of the 6 charging bays features an LED monitor showing you the battery status and charging level. And this recharger comes with an intelligent micro-processor inside to independently check each battery's status, type and size before reviving the battery life.
This versatile battery charger can be used to charge AA, AAA, C, D, and 9 volt ordinary alkaline and rechargeable NiCad, Ni-MH, high power and zinc carbon batteries.
Please note: This product cannot recharge alkaline batteries that have zero charge remaining.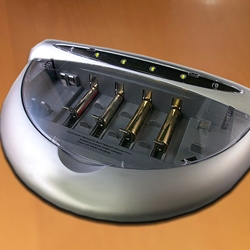 Never Throw Away Good Batteries Again!
"I have tried a lot of battery testers and this one is, by far, the BEST!" -Veronica
Our Universal Digital Battery Tester displays the charge of your battery instantly on a large easy to read LCD display.
This versatile battery tester can be used to test AA, AAA, C, D, N, 9V, CR123A, CR2, button cells (3V & 1.5V) and even digital camera batteries (2CR5, CR-P2 & CR-V3)!
Requires 1 AAA Battery (Not Included)
Save time and money by always knowing if your battery has enough charge for the job!